Interim Pastor
Brian McGookey
Brian McGookey, our interim pastor graduated from Albion College in 1981, and entered the world of corporate accounting. He spent fifteen years at various companies and in various positions, from financial analyst to cost accountant and then working his way up the ranks to corporate controller. But it was here at Pilgrim Congregational in 1997 that he heeded to call to leave the corporate world behind and pursue the ministry. Pilgrim took Brian in care, and financially supported him as he entered Michigan Theological Seminary, which is now a branch of Moody Theological Seminary. As part of his theological training, Brian was accepted as a fellow in the Congregational Foundation for Theological Studies (CFTS), and began an internship at Mt. Hope Congregational Church, under the guidance of Rev. Dr. Steven Schaffer.
Brian graduated magna cum laude from seminary in 2002, and received the John W. Claxton award from CFTS, which honors the CFTS fellow who best exhibits the Congregational Way. Soon after, Brian was called to be the Assistant Minister at First Congregational Church of Clarkston, serving first under Rev. Dr. James Keough, and then Rev. Chris Richards. In January of 2003, Brian was ordained right here at Pilgrim.
In 2004, Brian was called to be the Senior Pastor of Gahanna Community Congregational Church (Gahanna is a suburb of Columbus, Ohio, so yes; it can be seen as missionary work! Go Blue!).
After 14 years at Gahanna, Brian retired from ministry in order to be closer to his family.
Brian and his wife, Hope enjoy the Detroit Symphony Orchestra (Hope is an accomplished musician in her own right), and they are ardent art collectors. They are both members of the Washtenaw Community Chorus (Brian sings tenor; Hope sings soprano). Something that you may find quirky is that Hope and Brian both are of fans of drum and bugle corps (Brian marched in a top corps back in the 1970s.
Music Director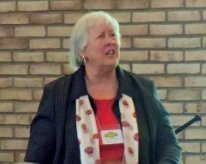 Our Music Director, Kerry Price, has served Pilgrim Church for many years, as choir director, organist/pianist, worship leader and soloist. Kerry holds a Bachelor of Music Education degree from Indiana University and a Master of Music degree from The University of Michigan. She is also active in the community as music director for community theatre groups; as singer and accompanist with local choral groups, sing-alongs and traditional jazz ensembles; and as a performer of her original one-woman music programs.
Secretary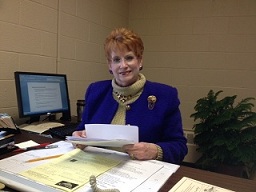 Rosemary is generally in the office on Tuesday and Thursday afternoons (noon until 5:00 PM). Contact her by Phone: 248.642.2290 or email .